Zoho One is the mothership of all bundles.  With over 40+ applications for an unbeatable price, where ever you want to take your business, the sky is the limit with Zoho One.
Our Annual Product Overview
Want to learn more about Zoho One?  With over 40+ applications it can be a bit overwhelming, but don't worry!  We break down every product in our annual Zoho One Full Product Overview.
Full Zoho One Product Review
With 2021 bringing us 6 new applications, 300+ integrations, and over 150 new features, it only made sense that 2022 had tons of updates! Zoho One applications had many notable updates including the addition of ChatGPT to Notebook, topic management settings in Campaigns, embedded signing with Zoho Sign, and much more. See how these updates, or lack thereof, influenced our product ratings.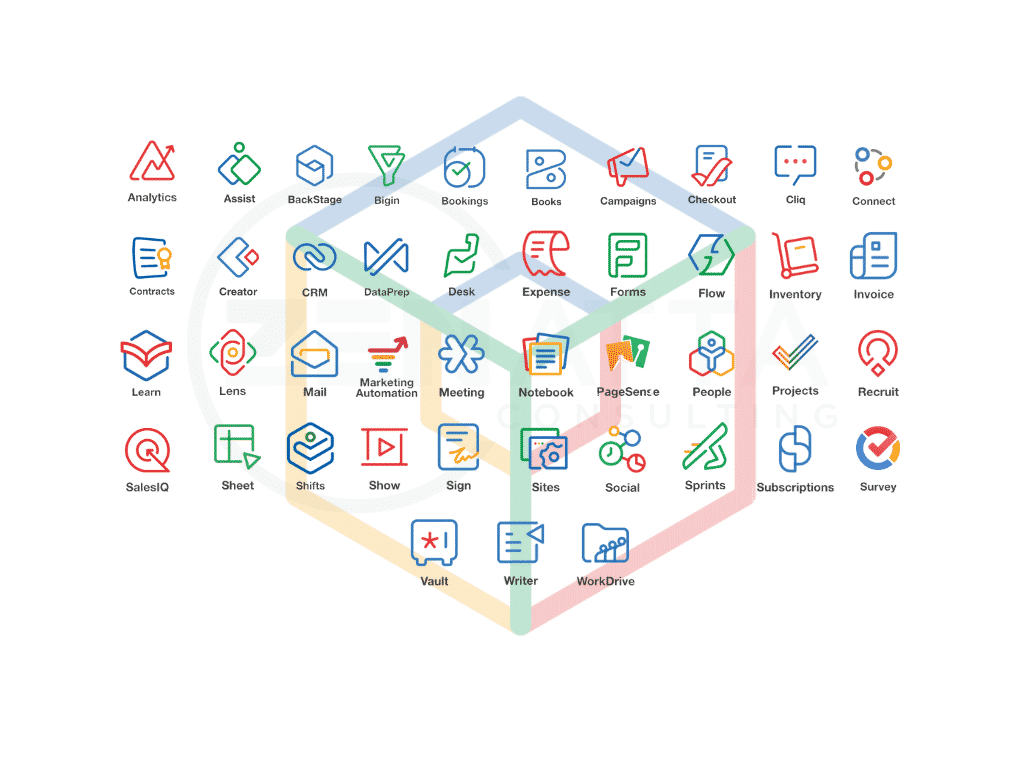 Zoho calls Zoho One "The Operating System For Business", and that it is. With 40+ applications, we cover each and every single one. Skip ahead through the video below to learn more about each product or continue reading for a quick overview of each product. If you want to learn more click on each product's title to jump to their individual resource libraries!
Zoho One Major Updates
Before we dive into all the different applications, one big update this year was Zoho One's Unified Tasks View. This view provides all your tasks to live in one place, whether those tasks be from Projects, CRM, People, or other Zoho applications. Organize, add, or delete tasks all in one convenient spot. This is a great addition after 2021's Zoho One UI overhaul.
Sales
---
---
Marketing
---
---
---
---
Social Media Management
---
Web Tools
---
---
---
---
Event Management
---
Support
---
---
---
Communication
---
---
---
Project Management
---
---
Collaboration
---
---
---
---
Office
---
---
---
---
Productivity
---
---
Finance
---
---
---
---
---
Operations
---
---
Human Resources
---
---
Legal
---
Business Process
---
---
---
---
Ready To Get Started With Zoho One?
Though you may not need every application, this bundle is cheaper than many applications paired together. Don't forget, if you want to learn more about each application simply click on the images above or visit our resource library. Of course, if you want professional help and assistance we are always here to help at Zenatta. Drop us a line and we'd be happy to see how we can help your business implement Zoho One.