Have you ever had a form come through with information that crosses records? In this tutorial, Tom walks us through how to create multiple associated records with just one Zoho Form. Using Zoho Flow you can automate this process!
Key Takeaways
Set Up The Initial Integration
To start, we first need to set up the initial integration between Zoho Forms and Zoho CRM. In Zoho Forms, select the Integrations tab in the top menu bar. Here you will select Zoho CRM and choose which module to integrate. In this example, we are looking to create both a Contact record and an Account record within CRM using this one Zoho Form. Use the Contacts Module for the integration and map the fields accordingly.
Create Another Record Using Zoho Flow
Next, we will create a new workflow inside Zoho Flow that generates another record after the form is complete. Base the flow off of App Trigger so that once the form is submitted the flow will trigger the actions set up within the workflow. Choose the form that you have created to kick off the flow. In the menu bar of Zoho Flow on the left, choose the Zoho CRM app, then drag and drop the "Create module entry" into the flow. The variable name will default, and all the other fields you will fill in using the variable options.

Associate The Records Inside Zoho CRM Using Zoho Flow
After that segment of the workflow is complete, you will add the "Create or update contact" option into the flow. A similar process here, we want to make sure to fill out the fields using the variables given. The variables correspond with the fields in the form. The Account Name field will need to be mapped under the Create Account drop-down. This will pull in the Account ID from the record that was just created for this form entry.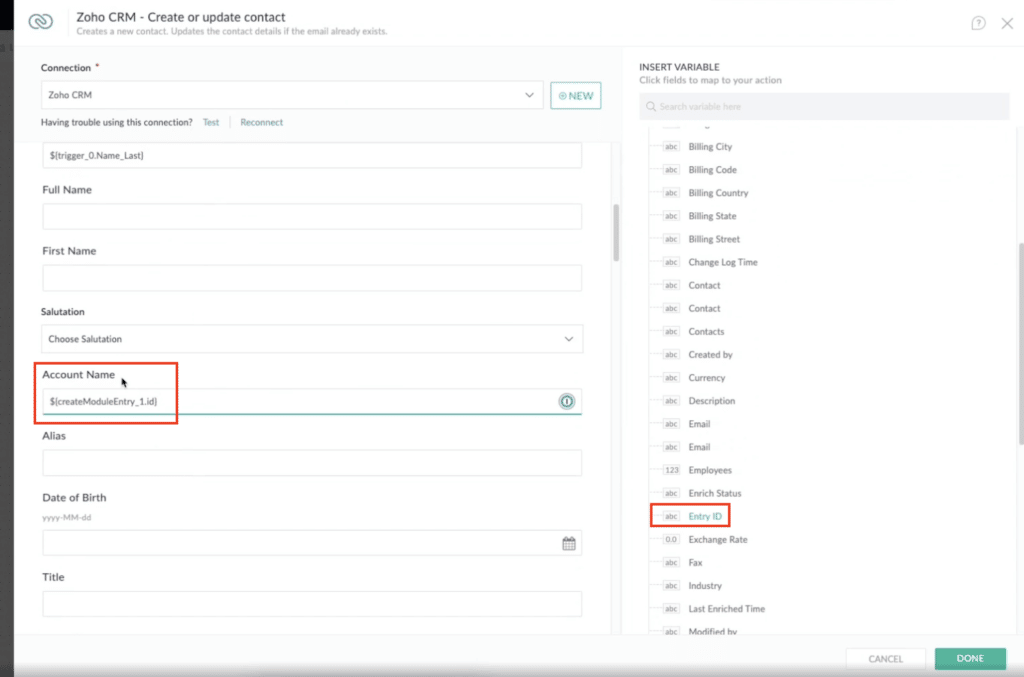 Now, when the form is submitted it will trigger this workflow to create a new account record and then create or update the associated contact record as well.
Additional Resources
Want to learn more about Zoho Forms, Zoho Flow, or Zoho CRM? Check out our other resources which include videos, articles, and guides by clicking here to visit our Zoho resource library!