Executive Summary
Peak Realty is a real estate brokerage firm with an investment mindset. They help clients in all asset classes ranging from multi-family purchases and leasing to single-family home purchases and sales to rentals. Their team includes 15 employees and 25 independent contractor brokers operating in Chicago and its suburbs.
The Challenge
Prior to Zenatta, we had very fragmented systems, utilizing several different software products to power our business operations. The fragmentation caused lots of issues including data syncing issues, compatibility, and overall tech fatigue for our sales teams who needed to log into several systems in order to process a single deal.

Ari Weil – Director of Strategic Growth
Implementation
When we started with Peak Realty, one of the first pain points was their website was streaming data from other sites to bring data into their CRM, but it wasn't working well. We revamped this sync to work properly. It now pulled data from third-party sites that would properly and cleanly display the data. This data included market availability, current market rent, and all current details on that property. This was all achieved through the CRM with help of their web team to connect the different APIs. Because of this, they now have an up-to-date database they can rely on.
Additionally, we helped them set up various lead capture methods that include email parsers and API feeds that are coming in from various property websites. Whenever they get people interested from the various property sites, that data is sent to the CRM and properly directed to the right property broker. We also included custom workflows and assignment rules since each broker manages a set of properties to ensure each lead was designated to the right broker based on property. This was achieved through multiple tools, including CRM, Zoho Flow, API connections, and email parsers.

Another unique implementation worth mentioning was the creation of an automation to move their deals forward from requested signature to signed. Whenever a lease is signed, they get an email, that email is parsed, then runs through a workflow to determine what deal it was for, and then the signed lease is attached to the deal. What is unique here is that the lease wasn't sent through Zoho, so we have no visibility until the lease is signed, but we were still able to achieve this process without using Zoho Sign.
The last thing worth mentioning is the custom Creator app we developed for them. We built them an application management portal that allows them to have one place where all their rental applications get logged and managed through the entire application process. It allows them to work with both internal and external users, such as contracted brokers, allowing them to collaborate with a large group. Providing this app allowed them to completely cancel subscriptions to other apps such as Monday.com, which allowed them to solve this problem. And since they are using external users, the creator app ended up costing them very little compared to all of the external applications they were needing to use. They estimate a savings of about $12K/year by getting off of Monday.com. It was ~70 users at $15/user/month.
Results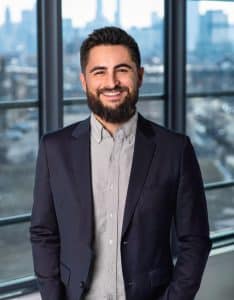 Zenatta has helped us in many ways-

Launching a customized application screening portal with Zoho Creator. This portal allows us to communicate with our sister company (property management) about applications we receive, and the portal is fully integrated with out CRM, allowing our brokers to visualize all/any of their applications and where they are in their pipeline, and when applications are fully approved and sign they create deals automatically in CRM for our brokers to submit for payments. This has significantly reduced tech fatigue for our sales agents.

Creating a sales deal blueprint in CRM. The blueprint has tremendously streamlined the process to create and close sales deals in the CRM. Our sales deals follow a long timeline including many steps, involved people, attachments, and data points. The blueprints allow brokers to move their deals along and only need to input the minimally appropriate information at each step along the way. Making it much easier and more fun to input deals and move them along.

Countless automations. At this point we've lost count of the exact number, but Zenatta has helped us input many automations that significantly reduce mundane administrative tasks. We manage our property inventory in the accounts module, and these automations make all sorts of changes for us based on various criteria including the availability status of a unit, it being listed on the MLS, to communicating with our team members important and timely emails when statuses change, new units become available, and when a broker becomes assigned a listing. This is just the tip of the iceberg!

The team is extremely competent on Zoho's products to a level that they seem to know how to take those products to a level of use beyond even that which Zoho had intended.

It is such a large ecosystem of applications and products, and Zenatta has really been our guide on which make the most sense for our business.

Ari Weil – Director of Strategic Growth