This pandemic has brought many new challenges for both our work and personal lives. And with it lingering longer than expected, many businesses quickly adapted to provide similar services accommodating the new requirements and restrictions caused by Covid. One such business is Zoho with their application Backstage.
Zoho has done an excellent job of rapidly deploying changes to their various applications to make them more remote-friendly. They even offered a special remote bundle for a short period of time for free, assisting businesses during these challenging times. One product has shined above the rest when it comes to adaptation, Zoho Backstage.
One of the industries hit the hardest was the event and entertainment market. With the tight restrictions on large gatherings and travel, industries needed to turn to newer methods of hosting events. Zoho's Backstage team heard this cry and has worked around the clock to meet these needs. Since the pandemic started, month after month, the Backstage team has been hard at work, constantly improving the product and providing new features.
This year alone has brought a dozen new features to the platform, not even including updates. Let's take a look at all of the improvements for this year.
Starting The Year Big
To kick off the year, Zoho Backstage had a bunch of significant updates, integrations, and enhancements. These included new Zoom and WorkDrive integrations, OnAir overhaul, and session updates.
One thing you love about any product is when the developers listen to the community. Nothing is more frustrating than dealing with a product with so much potential, but it won't deliver the little things everyone wants. Luckily for us, the Backstage team is very receptive to feedback and heard the community's cries for a Zoom integration. With the new Zoom webinar integration, you could amplify your event's broadcast to up to 10,000 attendees.
OnAir Bombarded With Improvements
With Zoho Backstage OnAir being introduced back in July of 2020, the team took all the feedback from the launch and delivered a polished event management solution tool to start the year. These updates included hosts to have video conferencing for up to 20 members, improvements to sessions, pinning speakers, and even adding your favorite emoji reactions.
And while talking about improving sessions in February, the rehearsal sessions feature was introduced. Rehearsal sessions allowed speakers and hosts to do dry runs of the event, working out any kinks and ensuring everyone felt comfortable and familiar with the software. We all know how nerve-racking public speaking can be for some of us. But usually, a few practice runs helps immensely.
One thing missing, though, from OnAir was the ability to connect via mobile device. Shortly after all of these updates, a series of mobile updates for Backstage brought all of these OnAir features to mobile devices.
In May, the team added handouts to OnAir. One of the great things about going to an event is all of the handouts you get. These often include special discounts, brochures, and swag from various vendors. Though you may not get the swag, vendors and hosts can give out various brochures, guides, and videos with handouts, bringing that personal experience straight to your home office.
Hybrid Events Introduced
In July, one of the most significant additions of the year to Backstage was introduced, hybrid events.
"Zoho Backstage now allows event organizers to conduct hybrid events and give their attendees the freedom to attend either online or onsite. Whether streaming at-venue sessions to virtual attendees, connecting online speakers with an onsite audience, or creating networking rooms to connect onsite and online attendees, our hybrid events solution has everything you'll need to create a fantastic attendee experience."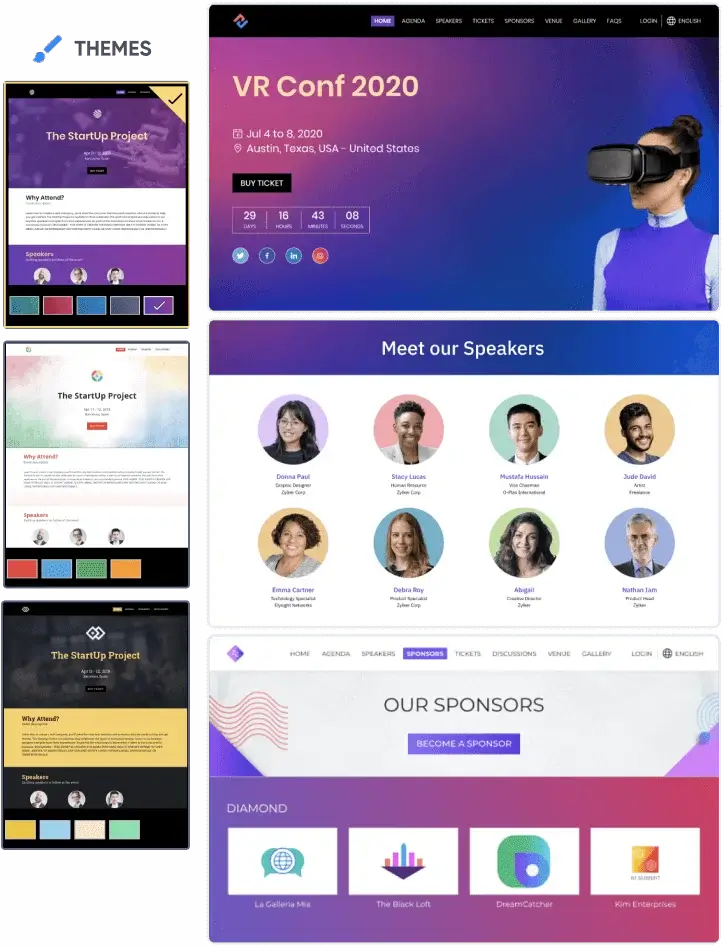 Many in-person events were back with the rollout of vaccines and mandate lifts. Though depending on the country and personal preference, not everyone was ready. Thus, hybrid events solved that dilemma by satisfying both worlds.
Want to tailor a different experience for online attendees vs. onsite? Backstage has you covered with this as well! Create unique experiences depending on the type of registration.
Ending The Year Strong
Everything discussed so far had been released before the end of summer. However, the team didn't let up and continued to release a steady stream of improvements and new features.
More website customization features include media with a text list and an animated number counter for key statistics you want to show off.
Cookie privacy policies introduced giving visitors a cookie banner to choose from and building trust with your site. Though this isn't required yet in the US, for most of the world including the EU it is required.
Exhibitions added for both the site builder and OnAir allowed shareholders and vendors more power at your event. Allowing them to have their own unique landing pages on the event page promoting their products.
Centralizing your attendee database was a big one. Analytics reign supreme in this day in age. This update, in particular, brought all of your attendees' data to one consolidated dashboard. Giving you key analytics such as where your attendees are coming from and repeat attendees.
Virtual exhibitor management in Zoho Backstage was introduced. This feature took how you manage your exhibitions and their tools to the next level. It introduced multiple booths, tier levels, request forms, and enhanced tools for vendors. Allowing both you and your vendors a more successful experience.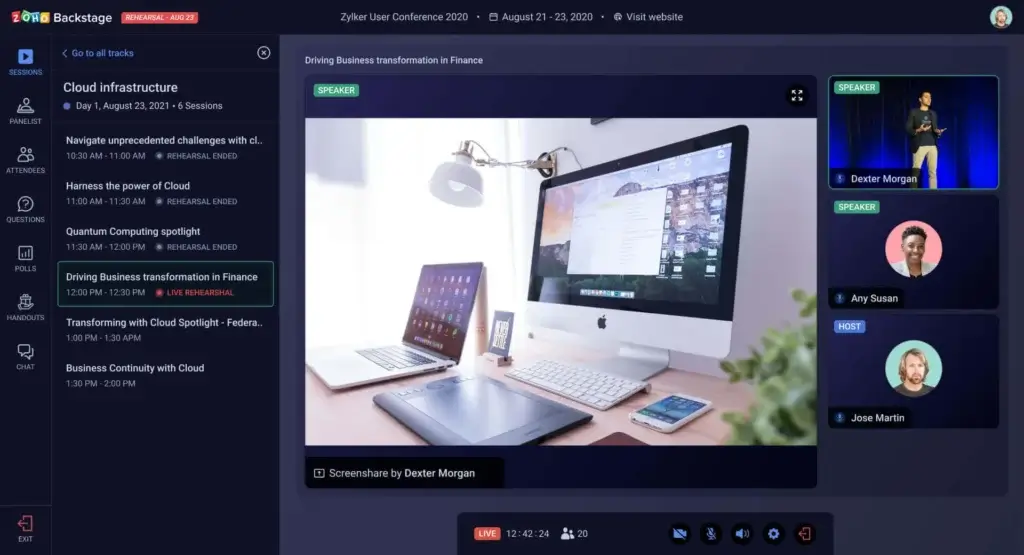 Besides all of these updates this year, Zoho Backstage was already a fantastic event management solution. One thing that is always worth mentioning that sets Zoho Backstage apart from its competitors – is no commission. Yup, that's right. You keep every penny on your ticket sales.
Ready To Launch Your Next Event With Backstage?
Whether in person or online, Zoho Backstage is ready for you. Manage your events, boost ticket sales, give your vendors and participants more options, keep your ticket sales profits, and more. Don't miss out on maximizing your event growth; Zoho Backstage provides all the tools you need to succeed. Want to learn more about Backstage? Visit our extensive resource library, and if you need professional help, we are happy to help.