In this tip, Tyler walks us through the first things Zennatta consultants do when jumping into a brand-new CRM. The 3 key takeaways are pretty basic, but make a big difference in the usability for CRM users. These first three steps are removing unnecessary modules, cleaning up the layouts of records, and creating a basic user profile.
Key Takeaways
Remove Unnecessary Modules
At the top of the homepage in CRM, you'll see all the modules listed. You might notice that some of these modules don't apply to your organization. Especially in the beginning a lot of these modules won't apply. To remove some of these modules, hit the cog wheel in the upper right to access the settings page. Then select the Models & Fields link under the customization section. Step one, assuming you are the CRM Admin, is to turn off the modules you are not going to use at all. But don't worry, you can always bring any of the modules back if you later decide you do need them.
Next, you can edit specific modules to show up for only certain user types. You can edit each module and change the permissions, so maybe only admins can see the Analytics module for example. It's really important to cut out as much of the noise as possible for your users. There would be no benefit to keeping a module that has no useful information for a user, if anything it might slow down their workflow.

You can also adjust what modules show up by editing Tab Groups. This provides a way to select modules that will show up for a certain type of user with permissions. The drop-down list by the module names gives you all the Tab Groups to switch between. This is a good option if an everyday workflow doesn't need a particular module but say one day a week the user needs to access a few other modules. They can easily flip between Tab Groups whenever needed.
Clean Up Layouts Of Records
With a new CRM, the layout of the fields within a record is all in one box. It's best to organize the fields so that users can easily view what they need to and ignore other sections that are not as important. Jump back into Modules & Fields settings where you can click into a module to edit the layout. This will take you to the page that allows you to configure the organization of fields within the record.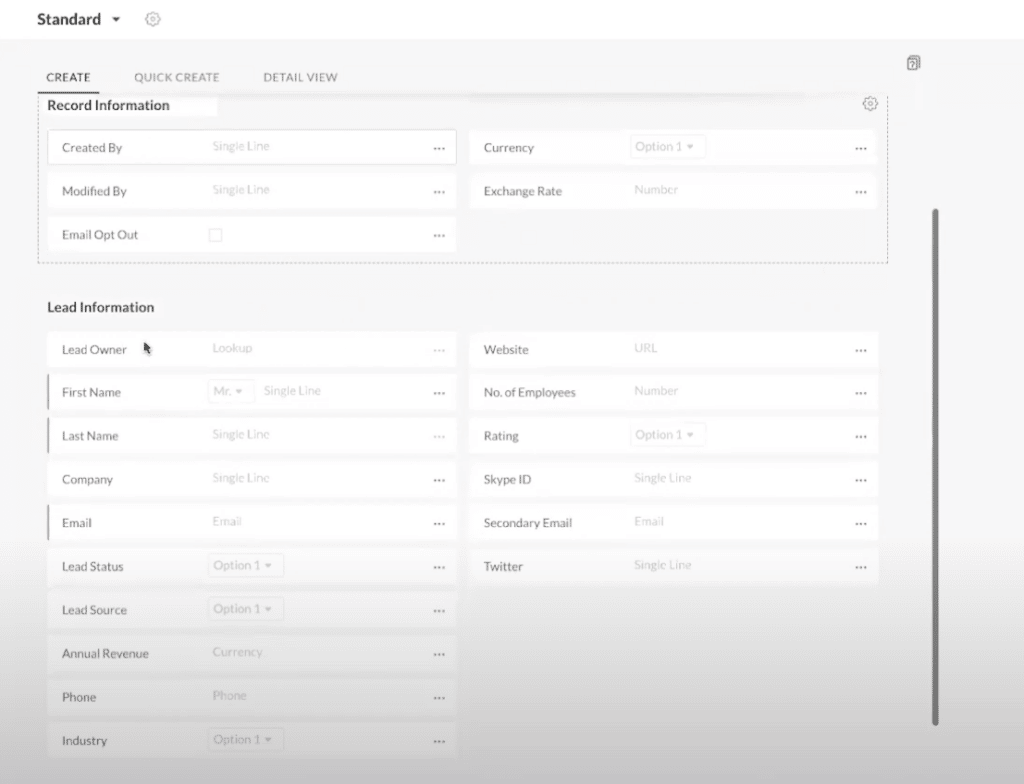 For just about every module, we go ahead and add a section at the top of the layout called "Record Information". This section is for any fields that we don't need to look at all the time but definitely need to have. Parsing out some of the data that the user never works with, encouraging the user to look at the fields that do matter. Move the "Record Information" section all the way to the bottom.
Another great section to add is "Account Information". Separating the company info from the lead info will add more organization to the flow of the record. Something that Tyler likes to do in addition to these changes is to separate the Contact Information from the Lead Information. You can separate the layout into whatever sections make the most sense for your company's workflow.
Create A Basic User Profile
Out of the box, Zoho CRM comes with an Administrator and Standard Profile. We think that the Standard Profile is way overkill for a normal user, so we recommend creating a Basic User Profile instead. To get this profile set up go to settings then Security Control. Tyler gives a quick breakdown, but for more information on how profiles and roles work, check out our video User Profiles Tutorial!
Scrolling through the Administrator and Standard Profiles, you can see what they have access to. The Administrator profile has access to pretty much every option in CRM. And the Standard profile has access to some but not all options. Because this profile is system-defined, you can't edit permissions other than the top "basic" ones. This is why we go ahead and create a whole new profile instead of just editing the Standard profile.
The quickest way to create a basic profile is to clone the Standard Profile and name it Basic Profile. You then can go through and change all of the permission options to whatever you prefer. Tyler walks through all the permissions that we would recommend editing for your basic user profile. We want to trust our employees, but giving your users fewer permissions will limit the number of mistakes or possible problems to occur.
Additional Resources
Want to learn more about Zoho CRM? Check out our other resources which include videos, articles, and guides by clicking here to visit the Zoho CRM resource page.