Executive Summary

Brite and Beautiful OC is a small business woman-owned beauty aesthetics studio that focuses on fat-freezing, spray tanning, and teeth whitening. They have been in business for almost 2 years, are a team of three employees, and have used Zoho CRM from the start.
Introduction
Brite and Beautiful OC started with just a basic instance of CRM. As their business grew beyond teeth whitening to fat freezing and spray tanning they started a list of items they wanted to improve or automate:
Client Tracking of Services
Targeted Email Campaigns
Appointments Integrated Online
Online Release Forms
Book Keeping
Social Media Management
Glancing at all of the other Zoho Applications out there they knew it was possible. Looking for professional help to properly implement these solutions, they found Zenatta.

The Challenge
Brite and Beautiful OC already had an instance of Zoho CRM setup. However, when contacting Zenatta they were actually Smile Brite OC and looking to change everything. With this transition, they wanted a fresh start for everything. This meant setting up a brand new instance of Zoho One with all of the new applications they were going to need.
Starting from scratch and importing their old data after was music to our ears. This gave us the opportunity to build a solution from the ground up that met all of their needs and was done right from the beginning. Once we laid out the plan for the groundwork ahead we began building and implementing these solutions.
Implementation
Creating an integration of Zoho CRM, their website, social media, Zoho Campaigns, Zoho Social, Zoho Books, Zoho Inventory, and 3rd party applications such as Acuity, Zenatta was able to accomplish everything as follows:
First the build-out of the CRM and Website.
Using WordPress we built out a new website for Brite and Beautiful OC.
Gathering all the data needed for their day-to-day operations we built out the CRM and created custom modules and fields around their business model.
Each different service had a unique workflow needed and triggers to be activated upon creation.
Using Acuity for their appointment scheduling on the website we were then able to link it with the CRM once a new appointment was booked.

Depending on the service booked, a service agreement would be sent, a customized quote was automated, and potentially a follow-up appointment reminder through the CRM and Sign.

Once completed all previous data from SmileBrite OC was imported and merged with the new proper fields.
With the backbone of the business setup, we swiftly implemented the following: Zoho Books, Zoho Inventory, Zoho Social, and Google Ads were next.
With payments set up through Square, the integration of Books and Inventory was implemented.
Advanced Google Ads campaigns were created for the different services provided hitting targeted demographics.
New Social Media accounts were created for Brite & Beautiful and linked to Zoho Social for easy Social Media Management of all.
In addition to all this, we also noticed their website needed some tweaking. After sharing with them our web services they were eager to fix this as well. Below is the before and after results of GTMetrix score once our team went through the site.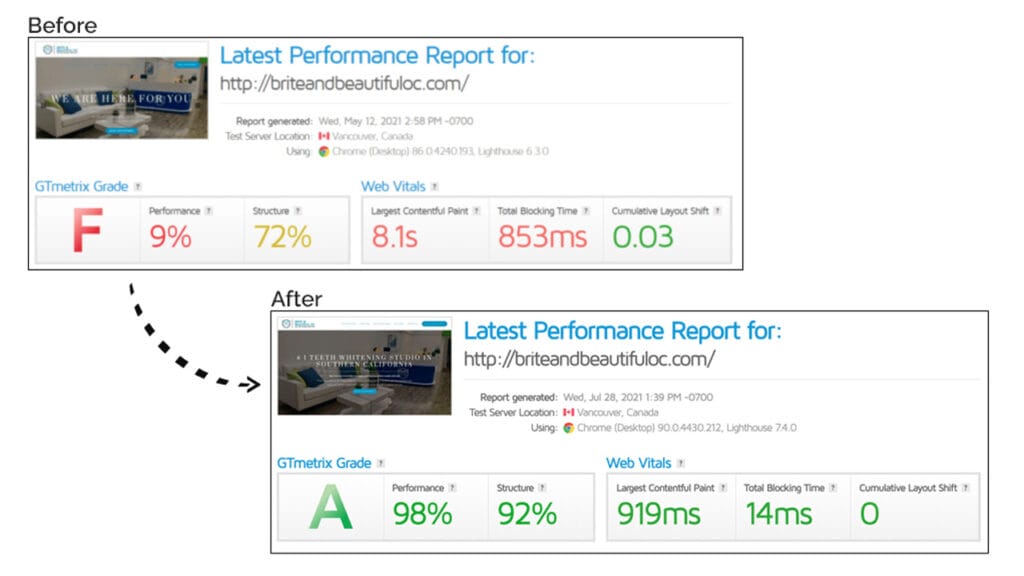 Results
The Zenatta team successfully executed a complete solution for Brite and Beautiful OC. From a virtual storefront, marketing strategy, CRM setup, financial suite setup, product & service tracking, automated quotes, and appointment booking Brite and Beautiful OC have been able to grow their business significantly and track metrics easily with their new complete Zoho solution implemented by Zenatta.

"While building out our CRM and website we reached out to Zenatta to help us with google ads. Ever since the traffic increase has been amazing and surprisingly the monthly cost for the growth is well worth it!"
Tina Hertensen, Owner – Brite & Beautiful OC
About Zenatta Consulting
For over 22 years, Zenatta has helped companies streamline their business practices. At Zenatta, we believe that the software and programs you use to run your business should improve productivity and provide measurable ROI. And, most importantly, your employees should love using it while making your business more successful. We can help get you there. Quickly and affordably.