What is Zoho Survey?
Dare we say the simpler way to send a Survey? Zoho Survey provides a seamless way to send your current contacts a custom survey directly out of CRM. By creating a survey specific to your needs, you can match fields and contacts to the CRM while gathering all different kinds of data in just one quick client survey.

Forms might be able to do something similar, however, its use case is mainly to bring in new data, like lead generation. While Survey, on the other hand, is best for gathering additional information on your leads, contacts, etc. As we journey through how to make the most out of Zoho Survey, consider how customer feedback will benefit your business processes.

Creating a Survey from scratch gives you the power to completely customize the question types and look of the survey with the ability to add links, videos, etc., directly into the survey. 
There are two options when first creating a survey: a pre-made template or a blank slate. The pre-made template allows you to pick an outline that essentially is plug-and-play. This is great for quick surveys with a few questions that don't need much customization. The blank page allows you to take full control of the survey. With the ability to add a variety of question types, plug-in videos or links to questions, and add comments or hints, a blank page is the best way to help drive the survey answers closer to what you are looking for. However, a general rule is to keep it simple. That way, you can make sure to capture the data you care about. It's common for people not to finish too long or complicated surveys. Finding the balance between detailed questions and simplicity is the key to a great survey. 

Building Your Survey
A quick look over the pages in Zoho Survey
Settings: You can add some detail to your survey on this page. The header, footer, progress bar, question numbers, timers, and disqualification settings all live on this page.
Themes: Design the look of your survey by changing the colors, fonts, and spacing. You can use a default theme or build your own here.
Hub: Integrations, Triggers, and Tracking
Pro Tip: Make sure to use the Preview function as you build out your survey to view it across multiple devices.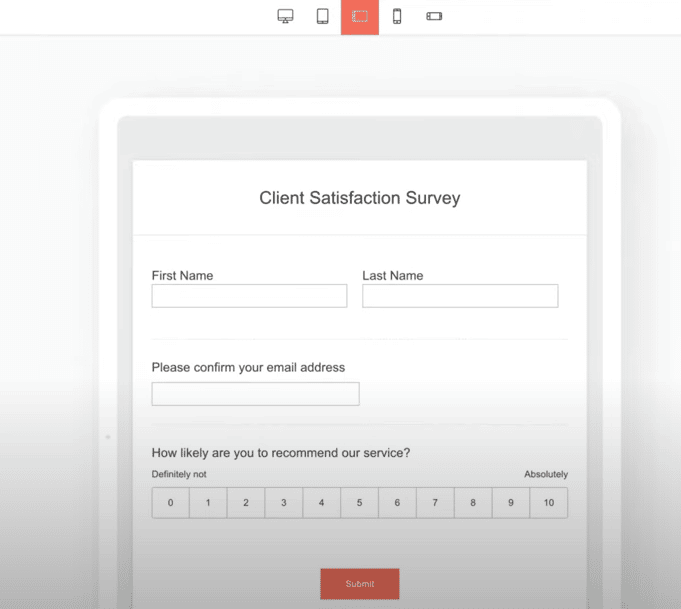 Survey Customization
One of the biggest customizations is adding logic to your Survey. Logic is mostly for page dependencies. If a question is answered in a particular way, you may want to ask them an additional question. Let's say someone answers the question, how is our service, as a 7/10 or less, you can have another question automatically populate asking, "how can we improve our services?". Using logic, you will be able to set up this dependency. You can control the flow of questions depending on their answers. Logic is super helpful in gathering the most in-depth answers to your questions.

In the Hub section, you will find the following:
Triggers: Emails, if you want to send an email with conditions of when to send based on how one of the questions was answered. Watch the tutorial for a more in-depth look at how to set up the variables in place for the email. Most of the time, these emails would go to a customer success email or to the sales team for a stellar review.
Webhooks: Getting data out of the survey into another system through Zapier or Zoho Flow.
Tracking: Google Analytics, Tag Manager, and Facebook Pixel are popular mediums for ad spending and tracking. Use this section to connect those platforms to get a more in-depth analysis on your Surveys.

Integration with Zoho CRM
There are two main use cases for integrating Survey with CRM. To send the survey out of CRM or to send the Survey data into CRM. You will want to match the correct CRM module to the survey depending on who you are targeting. A best practice is to send from CRM and not from Surveys. CRM fields will auto-populate once the integration is complete. If you don't have a particular CRM field that matches the Survey response, you will want to create that field in CRM so you can capture that information. If you don't know how to create a new custom field in CRM, Tyler does a bonus how-to within this Tutorial, or you can visit the Zoho CRM Full Product Overview video here to get a more in-depth look.
When you map picklist to picklist fields from CRM to Survey, you can set up option mapping so that you can pass specific labels ex: not happy = 1 and happy = 10. This is unique to Survey and not something you would find in Zoho Forms.

Another beneficial feature you can use is to set up an email template in CRM with a Survey. When the Survey integration is turned on for CRM, you will see the survey link button in the email template. You will then be able to easily insert the survey link within the email. The survey data is written back to the CRM using this integration.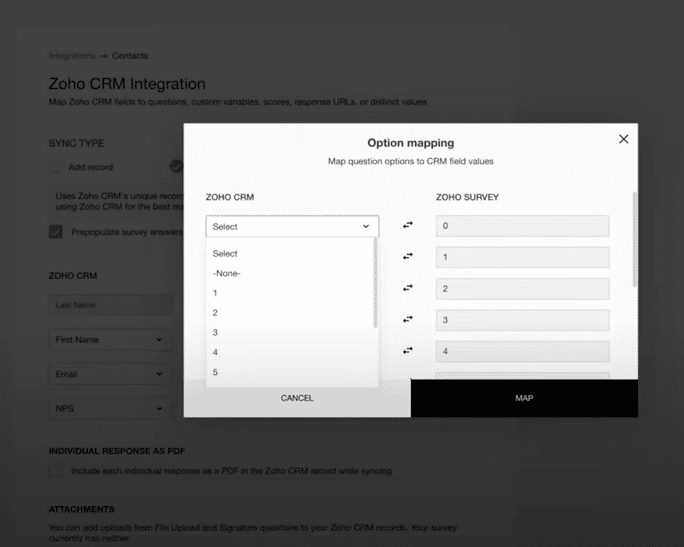 Launch & Distribution
Now that your Survey is complete let's review the various methods of distributing your Survey to the world.
You can click the survey URL to access the survey easily or use a QR code. However, as mentioned, we do recommend sending directly out from your CRM for the best data capture. You can distribute surveys directly through campaigns as well. Same way to send campaigns for any email you can use to send out the survey.
Inline Survey – 1 or multiple questions can show up directly in an email. Great for quick surveys, once completed, the email will then be redirected to the submit button, so you get that survey data. You'd want to use the URL Parameters to prepopulate the first name, last name, and email since it's not going out of the CRM. Using an inline survey has been shown to increase response rates!
Lastly, you can also insert the survey directly on your website with an iframe embed.