Zoho Cliq
Every business needs a fully functioning messaging application to keep the company's communication running smoothly. Zoho Cliq does just that. With organized ways to keep your team and conversions flowing, Zoho Cliq works for everyone. Simple to use and get going, this messaging app can be pretty straightforward or customized exactly to your liking. Keep in touch any way you like, with instant messaging, audio calls, and video chats.

Most will think of the top competitors, Slack or Microsoft Teams, but we'd like for you to take a look at all the features Zoho Cliq has in store. If you are already on Zoho One, this is a no-brainer, especially with the prebuilt integrations to other Zoho applications. If you are on another messaging application, chances are you can migrate your messaging data right into Cliq when you make the switch!
Overview
Convenient ways to make sure your team is online or find that missing file that your coworker messaged weeks ago. Here's a rundown of the side menu: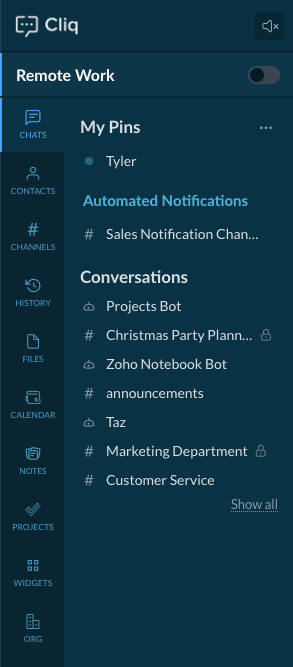 Remote Work Toggle is an easy way to let people know if you are available, in a meeting, taking a coffee break, or out for the day.


Chats & Pinned Chats keep all your conversations organized with folders and pins. Never lose a message from your boss when the chat is pinned to the top.


Contacts can be added for anyone inside or outside of the organization, just send an invite to their email address.


Channels live in their own section, but can still be seen from the Chats screen as well.


History gives you a full view of your Cliq activity, including calls, video chats, and messages.


Files are stored in a central spot so you can easily skim through in one spot instead of digging back through messages.


Calendar holds all your Zoho events and gives you the ability to separate them from your personal calendar.


Notes connects with Zoho Notebook with access to all your notes


Projects & Other Widgets can be added here as well. Giving you the ability to see the tasks from Projects or CRM right in Cliq.
Settings
Take Zoho Cliq to the next level with customizable settings. User settings allow each user to personalize the app just the way they like. With different theme colors, day and night modes, layout changes, and navigation. Each user has the ability to change their personal profile, but admin settings have more details and will apply to the entire organization.



There are a lot of different ways that you can alter Zoho Cliq using the admin settings. You can set up different permissions and regulations for the users, allowing certain team members to have different views. Add integrations with more Zoho applications or third-party apps. Data export can be made in order to back up your Cliq account as well. With so many ways to customize the settings, you'll want to watch the full webinar to get a more in-depth view.
Channels vs. Conversations
The two main sections of communication are Channels and Conversions, they might seem to be the same at first glance but have some key differences to keep in mind. This is a convenient way to organize your communications by teams, subjects, events, and more. Creating a Channel or Conversation can be done the same way, at the top of the screen by the search bar, click the " + " sign to create a new line of communication.
Have a specific topic you want to talk about or an upcoming event to make plans for? Creating a channel will help you keep in touch with everyone involved. Create your Channel then easily get the discussion going! Some examples of Channels might include Holiday Party Planning, Client Projects, IT Help, or Departments. You'll notice that Channels have a lot more settings to choose from. This is to help you get specific on who you want to be a part of the Channel. Include people inside your organization and any external people that you are working with. Add external contacts to Cliq Channels by sending them an invite using the same email that they use for their Cliq account. The individual will need to have some kind of Cliq license but there is a free version available for download.

Conversations are more pointed toward small groups or individual discussions. Used for ongoing communications, Conversations can continue on and live as the main point of contact for some team members. For example, a Conversation between the company managers might be useful to help them keep in constant communication with one another. This is a great way to have particular people in a group conversation that covers various topics.
Integrations
One of the most useful parts of using Zoho Cliq is the ability to integrate it with your other Zoho applications. A few popular Zoho integrations are Projects, Notebook, and of course CRM. Make sure to watch the webinar as Tyler gives a bonus tutorial on CRM integration where you can create a workflow rule that sends notifications to Cliq! Some of these integrations come pre-built and ready for use, while others take a few extra steps to integrate. There are some other common applications that integrate like Office 365, SSO Services, and EMM Services.
Bots
Referencing information from other Zoho applications is possible inside Cliq with the use of bots. The ability to see leads, contacts, deals, or other modules from CRM right in the Cliq chat helps streamline team communication. If Zoho CRM is already set up, the CRM bot will be automatically installed in Cliq. Using this bot is simple, just type " /zcrm " and then the module you would like to see information from. You can then easily select which file to share in the chat and a card with that info will be sent. In the bot settings menu, you can create custom functions or schedules so that a specific bot will auto-run on certain triggers. Bots create an easy way to reference your most crucial info right inside Cliq.
Conclusion
One of the Zenatta team's favorite applications, we can't recommend Cliq enough! To learn more about Cliq, visit our resource library where you can read more articles and watch tips and tricks here! Or maybe you still aren't convinced to switch from Slack, you can read our article Zoho Cliq vs. Slack to help decide which one is the best solution for your organization.