Customer relationship management systems have become a crucial part of earning a sale in today's world. In the past, companies could often get away with simply using spreadsheets to store basic information about customer accounts. However, today's customers expect a highly personalized experience. This is only possible when you manage every detail of a client's journey using modern CRM platforms. Companies are also much more adept at using data and cloud-based platforms to communicate with their potential clients. so you can only expect to beat a competitor to a deal when you make use of a CRM.
With every CRM usually comes a very expensive price tag since most were originally for enterprise clients. It is not uncommon for companies to pay thousands of dollars a month for their CRM and other cloud-based tools. Unfortunately, these costs are unaffordable for smaller businesses, so world-class CRM software has traditionally been the exclusive domain of large established businesses.
Recently, several solutions have emerged in the marketplace. These solutions provide most of the key CRM functionality without forcing customers to pay exorbitant prices. Two of the leading solutions in this space are Zoho Bigin and Pipedrive. If you want to supercharge your sales efforts without paying an arm and a leg in subscription fees, read on.

Zoho Bigin Features
Zoho is a leading provider of CRM software. The company has been in business since 1996, and it has offices and data centers around the world. One of Zoho's key offerings is Zoho CRM, a sophisticated yet affordable CRM suite. The CRM comes with all of the features that world-class sales teams need to achieve top-level performance.
As a company, Zoho stands out from other providers in the marketplace because it offers many different platforms. Collectively, these platforms aim to address almost any need that a business could have for streamlining sales and marketing processes.
For instance, Zoho offers tools that provide functionality for analytics, data analysis, marketing automation, and customer service. All of these solutions are significant because Zoho enables them all to integrate together in a way that improves performance holistically.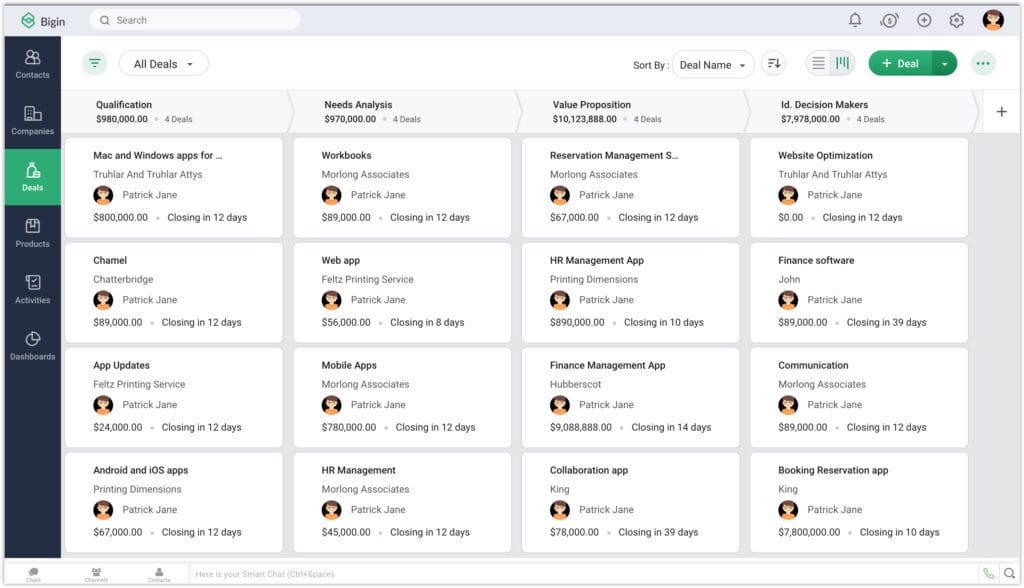 Bigin is one element in Zoho's product range that aims to offer the most critical CRM functionality for just $7 a month. The service is the result of CRM research conducted by Zoho that aimed to determine what features sales teams tend to actually use and need.
Zoho's research found that the vast majority of CRM features go unused, and unused features end up introducing excessive complexity. When complexity is too high, salespeople tend to use CRMs less frequently than they should. This unfortunately leads to failing to capitalize on the most significant opportunities.
With Bigin, businesses can make effective use of a CRM without having to put dozens of hours into onboarding. Instead, Bigin includes only the features necessary to nurture and close clients.
However, Bigin stands out because it does not lock important features behind paywalls. Rather, Bigin gives all of the key features to its clients without the conventional tiered pricing model used by nearly all CRM providers.
Advantages of Bigin
The fact that Bigin is part of the Zoho Suite is a major benefit if you need to expand to other business applications. If your sales team grows to the point where you could require a more robust solution, you can seamlessly migrate to Zoho CRM with just a few clicks. With other providers, migration can take weeks and cost thousands of dollars since files usually have to be downloaded at a snail's pace using artificially limited APIs.
Bigin is also a great choice for small and mid-sized businesses. It excels in efficiently solving everyday problems that businesses encounter. Other CRMs build around their top-tier solution with key features simply removed or grayed out for users in lower price tiers.
Consequently, Bigin has a clean interface that does not aim to make ordinary clients feel as though you are missing out on key features. Instead, Bigin includes most of these features out of the box, and many of the features of Zoho CRM.
Disadvantages of Bigin
Overall, Bigin has few disadvantages with the main one being that Zoho CRM synchronization takes some expertise to set up .
Pipedrive Features
Pipedrive is a CRM that aims to streamline the process of closing clients. The solution stands out for giving its customers access to tools for creating web forms to capture leads. Pipedrive users can easily create simple landing pages for email signups or customer inquiries.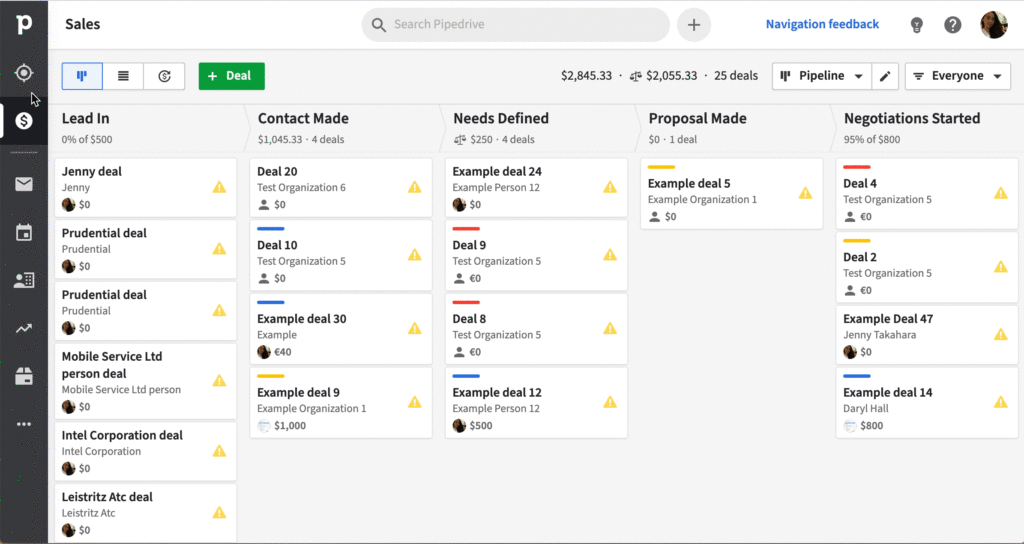 Another major feature of Pipedrive is the ability to use chatbots to capture leads. Pipedrive can add chatbot widgets to your website that can be used to start a basic conversation with potential customers. Although chatbots frequently make mistakes and often frustrate the most qualified leads, they can help to increase the conversion rates of landing pages in some cases. Clients can then chat with leads directly within Pipedrive to encourage them to move into the next stage in the buying process.
Pipedrive Advantages
Pipedrive makes it easy to build forms by using a drag-and-drop interface. Although most CRMs come with the ability to create forms, Pipedrive's interface is more simple than many of the other solutions that are available.
Pipedrive has a good visualization tool that can help you to conceptualize your sales process. You can then modify your sales process by dragging and dropping elements into the flow model used for your sales pipeline.
Pipedrive includes a feature-rich mobile app. This mobile app comes with the ability to synchronize calls and emails. Many of these features are only available with top subscription tiers, but they can be helpful for streamlining your sales process if you have access to them.
Pipedrive Disadvantages
Of course, a simple interface is not ideal in all situations. Many Pipedrive users complain that Pipedrive feels as though it is dumbed down and that many of the most important features are blocked off.
Also, unlike Bigin, Pipedrive blocks off key features unless you pay for more expensive subscription tiers. Even the most basic subscription tier costs $15 a month, but the top-tier plan costs $99 a month. For SMBs the pricing model is excessive compared to Zoho's flagship CRM priced between $12 and $52 a month.
Pipedrive's functionality is also lacking in many areas. Since Pipedrive is a standalone offering, it offers very few integrations. The integrations that are available are limited to the ability to migrate from some of the leading CRMs.
When engaged in a sales process, companies often have to speak to dozens of people before finally closing a sale. Unfortunately, Pipedrive cannot separate leads from long-term contacts. Therefore, your address book can quickly get filled up with thousands of people with whom you have no need to continue speaking.
Choosing Between Bigin and Pipedrive
Bigin and Pipedrive both offer features that can help to improve your sales process. Overall, most experienced salespeople agree that Bigin is a better value because it is easy to use, offers a broader range of features, supports hundreds of integrations, and is substantially less expensive. Nevertheless, you should give both Bigin and Pipedrive a try to determine which solution is right for your business.