UNLIMITED
TEAM ACCESS.
ZOHO CRM TRAINING.
Online, self-paced, 100% money back guarantee
Set up and train your team on Zoho CRM in just 7 days
Purchase once, and get unlimited access for your team
Created by Zoho's #1 Partner in the Americas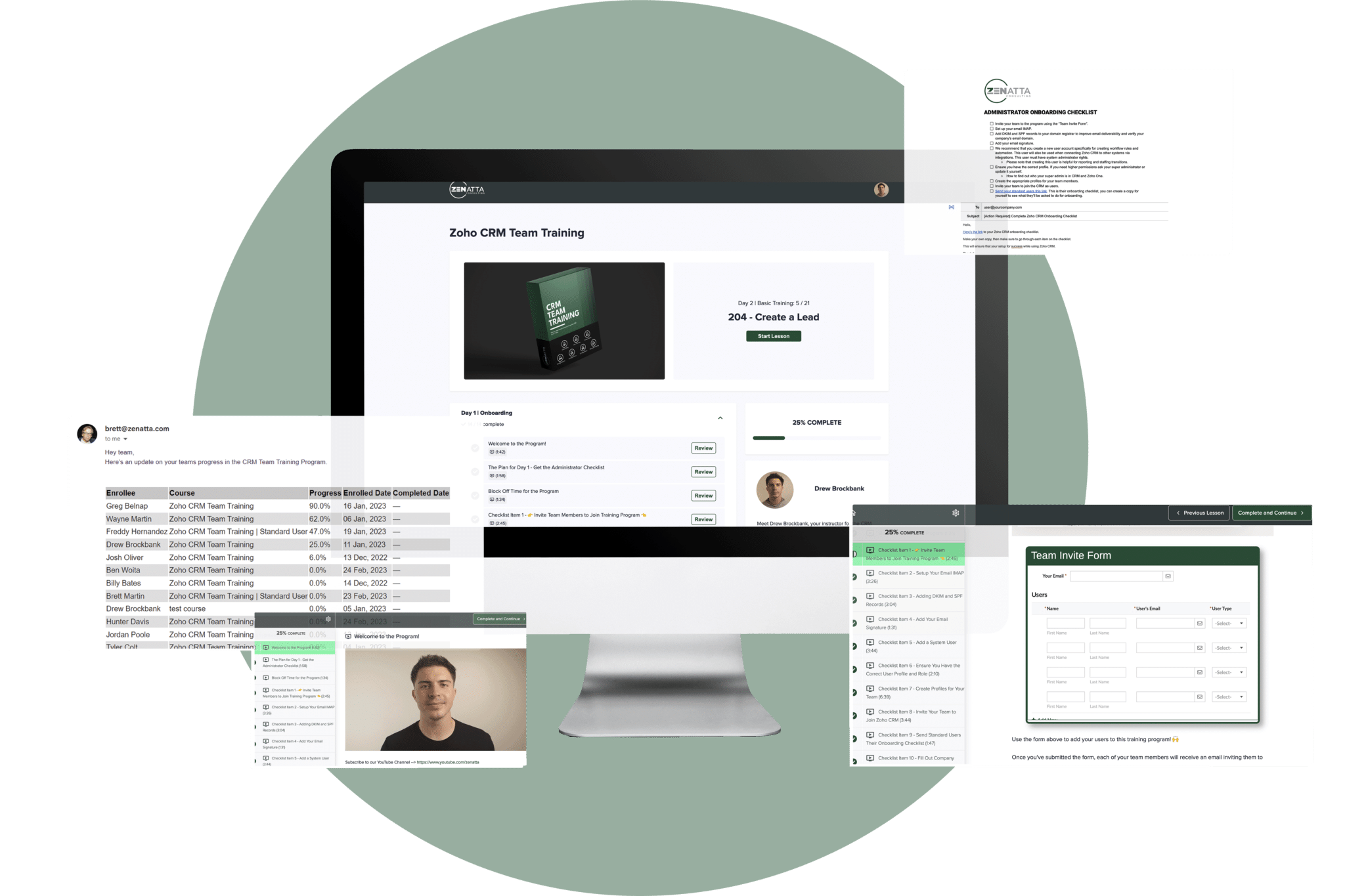 Trained by Zoho's #1 Partner in the Americas through the CRM Team Training Program
TRAIN YOUR TEAM IN 7 DAYS
ONE PURCHASE. UNLIMITED TEAM SEATS.
"I commend that you started from the very basic parts of the CRM. As someone who has been using it for a while now, I think it is really important that my colleagues have this training because most of them are still lost in navigating the CRM. I learned a lot from your videos even though I thought I already know a lot."
"I like the bite size pieces, it's easy to stay on track through interruptions. Even though I block out time, everybody's IT needs are urgent. I'm a trainer at heart and think your product is really well presented!"
"We are enjoying the training videos and have actually learned a few basics that we've been overlooking for years."
"This has been really helpful in helping me understand the system, there were many things that didn't make sense before that are starting to come together for me. You're the best!!"
"Finished Day one and I think I finally have it.
Team members are looking forward to starting their training and learning more. Everyone is ALL IN.
Thanks for pushing this learning project. We are extremely excited to participate."
"No complaints at all. I thought it was complete, accurate, a good length, and enjoyable. You obviously have a passion for this and it shows. Keep up the great work!"
Administrator Setup and Training
Standard User Setup and Training
Welcome to the Program (1:42)
The Plan for Your Training (1:58)
Block Off Time for the Program (1:34)
Request Access to Zoho CRM (2:27)
Setup Your Email IMAP (3:36)
Add Your Email Signature (1:31)
Ensure You Have the Correct User Profile and Role (2:10)
Give Us Some Feedback! Make This Program Better. (1:00)
The Plan for Day 2 (1:07)
201 – Core Modules Explained (5:27)
202 – Create Profiles (2:13)
203 – Add Roles (2:23)
204 – Create a Lead (2:02)
205 – Edit Records (0:55)
206 – Clone Records (1:12)
207 – Add Notes (1:10)
208 – Attach Files (1:21)
209 – Create Activities (2:31)
210 – Create Contacts and Save and New (1:13)
211 – Delete and Restore Records (1:45)
212 – Convert a Lead (2:37)
213 – Search for a Record (3:38)
214 – Record View Types (2:17)
215 – Create a Custom View (2:17)
216 – Send an Email (1:50)
217 – Email Insights (1:07)
218 – Sending Mass Emails (2:11)
219 – Create a Report (2:47)
220 – Mass Update Records (1:28)
221 – Create an Email Template (3:22)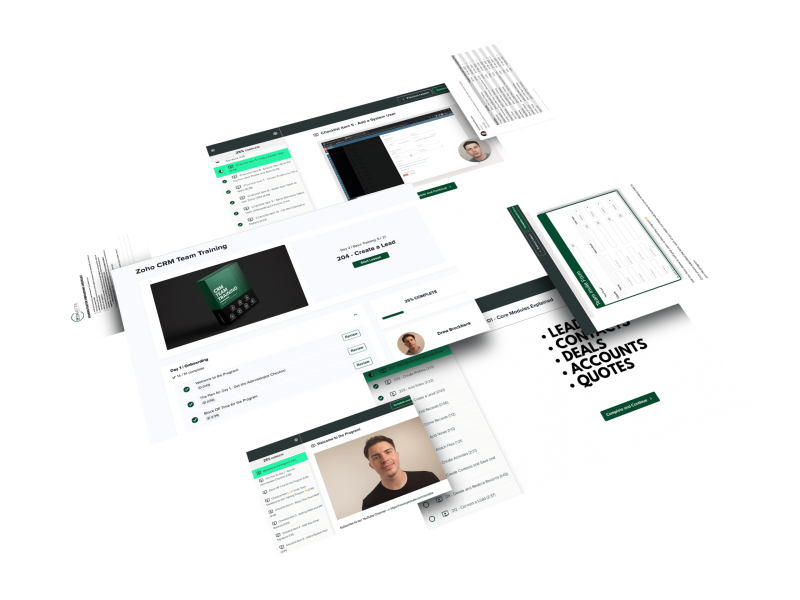 GET SETUP CORRECTLY
RIGHT OFF THE BAT
Get your team setup correctly in Zoho CRM with onboarding checklists. The onboarding checklists in CRM Team Training are battle tested and have corresponding walkthrough videos.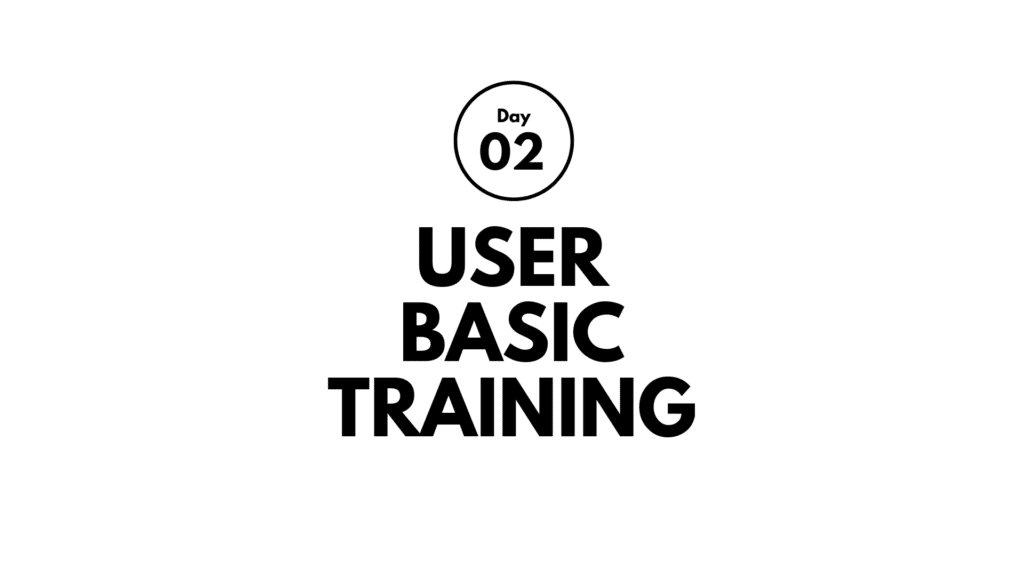 Zoho CRM can be disorienting without basic training. Day 2 focuses on getting your whole team up to speed on Zoho CRM fundamentals. Your team will learn how to create & search for records, understand the core modules, the different emailing options, and much more.
ZOHO CRM WAS MADE TO MOLD
EVERY BUSINESS IS DIFFERENT
MAKE YOUR CRM YOURS
Zoho CRM is almost too free-form out of the box. You must customize your CRM in order for it to add value to your day-to-day operations. Customization allows you to display your information the way you want, so you can easily access the most pertinent information in your business.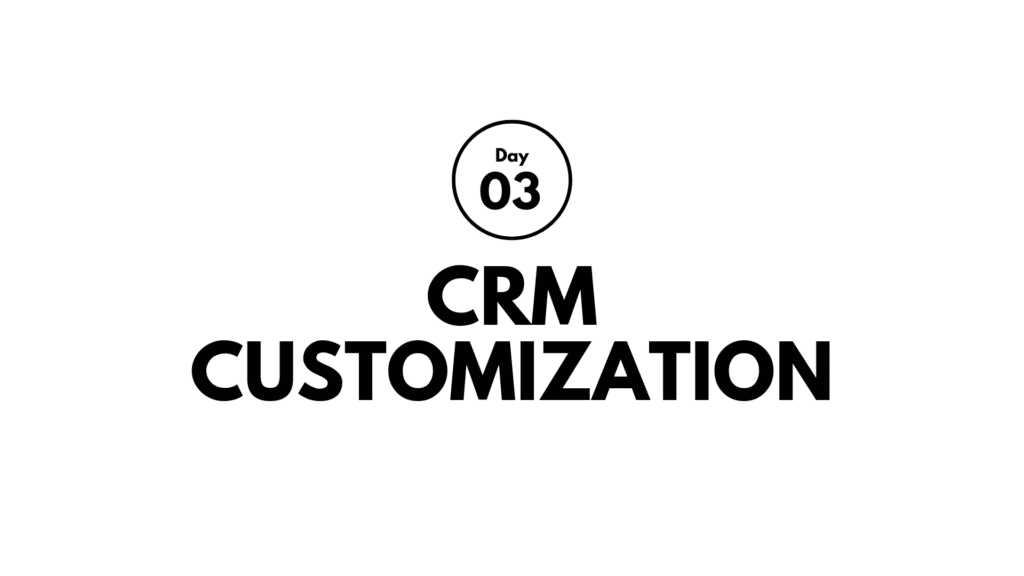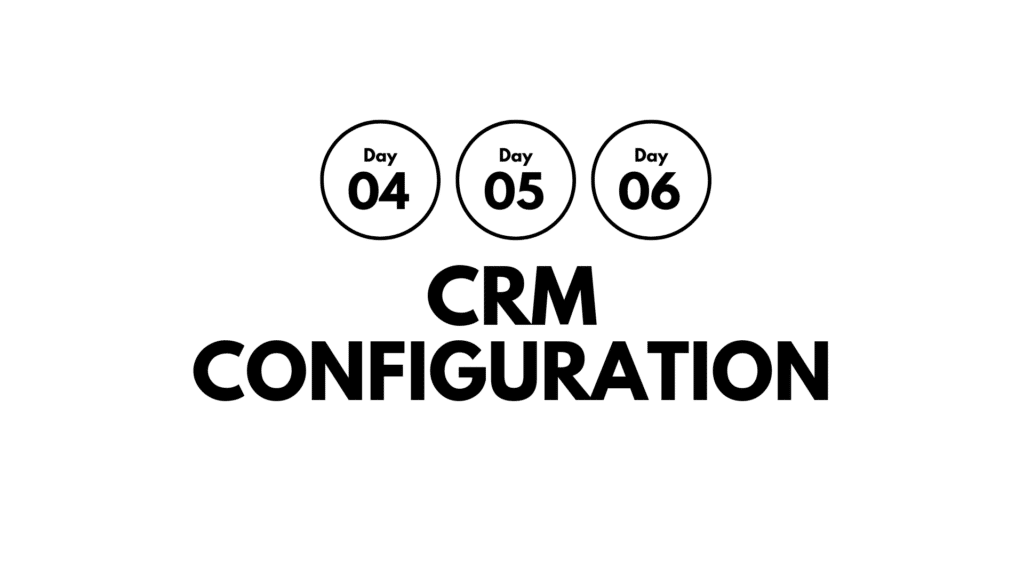 AUTOMATE YOUR WORKFLOW
REDUCE OPERATIONAL FRICTION
Zoho CRM has robust automation capabilities. The key to automating your business is to first understand your operations, then to understand Zoho CRM's configuration options. When these two things are thoroughly understood, creating automations for your business becomes intuitive.
Learn what it takes to solve advanced problems in Zoho CRM. On day 7 you'll learn how to deploy advanced automations using scripts and how to approach solving complex system issues.