Spending too much time organizing and setting up your event? Want a professional event page, but worried it would cost too much or take more time, then you have to create it? After the event, wouldn't it be nice to capture all of the analytics on how everything went? Well, here is the good news; all of this and more is just a few clicks away with Zoho Backstage. Let's take a look at some essential features of why you should give it a go.
Content Made Simple
Zoho Backstage does this well with two critical tools; a dynamic website event page builder and an agenda planner.
Build customized website event pages in multiple languages that stand out. Use your brand and preexisting templates to design professional pages for your event quickly. Included with this is a secure domain in which you can set up tickets for purchase directly through Zoho Backstage at no charge!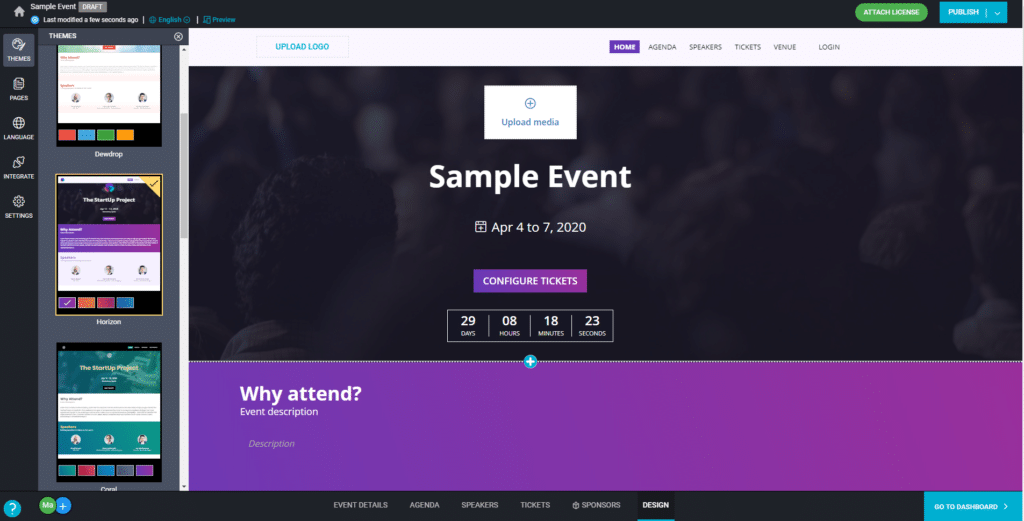 The agenda planner allows you and your guests to get a clear visual of the events schedule. Included is a free mobile app that can be used both with iOS and Andriod. With customizable colors to highlight key speakers and sessions, your attendees can easily plan out their day.
End-to-End Event Management
From start to finish Zoho Backstage includes all of the following:
Event Launch Site
Ticket Sales & Refunds

Pay ZERO commission on ticket sales!

Registration
Built-in Social Media Marketing & Email Campaigns
Personalized Schedules & Polls
In-Depth Analytics

Attendees
Session Engagement
Feedback
Use this arsenal of tools to your advantage to gain an edge for future events. Directly capture what sessions of the event individual attendees focused on and direct your marketing for future events based on those. Segmenting this data can also help decide what the strengths and weaknesses of your event were.
During the event, Zoho Backstage also gives the host the ability to create an event community. This allows everyone to receive live updates during the event through the mobile app as well as discussion boards. Give your team the tools they need to succeed in real-time. As we all know, anything can happen at any given time. A speaker's flight could have been canceled to unforeseen weather or because of an illness. Don't let this leave a negative impact on your event because you failed to make real-time changes.
With Zoho constantly updating and improving this software we suggest you give it a try! Click here for a free 14 trial and give us your feedback. We would love to hear what think.
.