Gone are the days of writing your passwords on your phone notes or hitting that reset password button for the hundredth time. Wouldn't it be great to have an application that safeguards your important logins? IT and online security professionals highly recommend a password management system for individuals and businesses. With billions, yes billions, of accounts being hacked per year, take the simple step of setting up a password management system today for yourself or your business.
What is Password Management?
A Password Management system is an application that will safely store your login information across all sites in one system. That's right, you now only have to remember ONE password. Think of it like an online vault to store login credentials, payment information, documents, and more. The ability to store your most crucial online information in one safe place is key to your security.
A Slew of Reasons
Yes, the ease of not having to remember all of your different passwords is a huge help. But there are many reasons why using a password management system is the right move for you or your company.
Here are some top reasons why password management is not something you should look past.
Security
No two passwords are the same, a password management system will randomly generate passwords so that each login has a unique and strong password.
Stored in the vault, your online information is encrypted so that hackers cannot get into your accounts. Meaning you can also store credit card information, addresses, and security question answers in your password management system.
Password / Account Sharing
Not common in personal endeavors, password sharing in businesses is quite common. Using one login to access accounts makes it easier for everyone to have access. Using a password manager, there are options for sharing certain logins with others in the company and keeping certain logins private. This way one strong password can be created for the shared account and stored in the shared system.
Convenience
Yes, security is a top priority, but we all love things to be convenient, and a password management system does just that. You'll only have to remember 1 password, that's it.
Most of the time, auto-filling passwords isn't the safest because they are stored in your browser and not encrypted in a vault-like system. However, the password management systems will allow you to autofill with confidence that your information will be secure. No need to even type in your username, a lot of systems will be able to plug in the login once you get to the site.
All of your logins will now be in one place, so when you can't remember if you already have an account, just log in to the system and see if there is one on record. Or if you need to go in and change a password, a lot of systems will allow you to do it right from the password manager.
Best Password Management Options
Zoho Vault
Best in class password manager, Zoho Vault, is a great place to start when looking to secure your passwords. Integrated with common applications like Office 365, Google Suite, Dropbox, and of course the other Zoho applications! If you are looking for an individual password manager, this application is forever free. Only pay when you want to include your whole business, starting with a 15-day free trial. Zoho Vault's primary concern is your security with top-of-the-line encryption and data centers all over the world.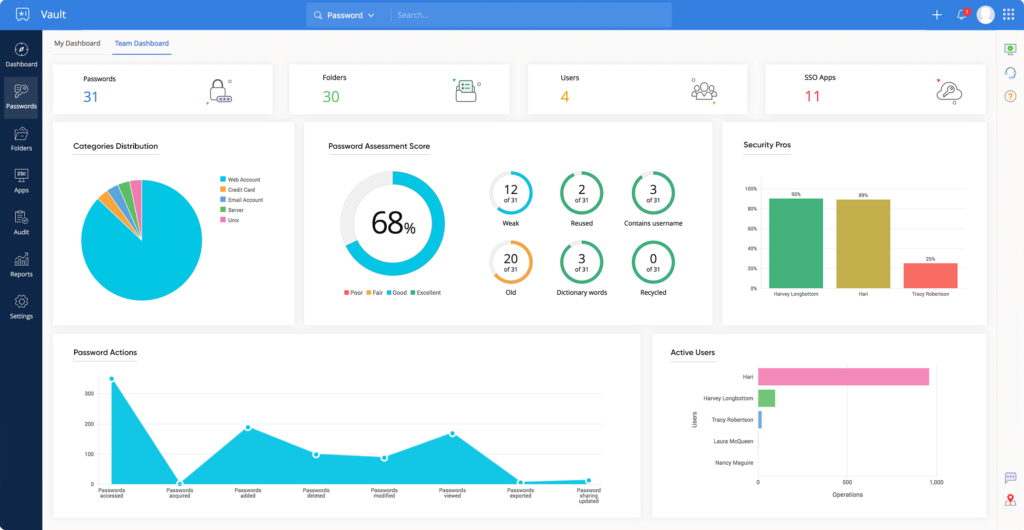 1Password
1Password is known for its use in over 100,000 businesses, keeping enterprises like IBM and UnderArmor secure. Starting at $20 a month, 1Password is a great way to secure your company's most crucial information. One of the best features, sharing passwords. 1Password has the capability to share passwords across the company so multiple employees can use the same secure login.
LastPass
Password security browser extension, LastPass has a variety of plans for individuals and families. Starting with a free option and others for just a few dollars a month. LastPass is easy to use and install. Additional features like dark web monitoring and multifactor authentication keep your info extra secure.
Google Password Manager
With any Google account comes for free the Google Password Manager. This system allows you to save and autofill logins right in your Google Chrome browser when logged into your Google account. This is a free service with the Google suite. The best feature provided is the ability to automatically check your login information against a list of passwords that have been in a data breach. Google will inform you once there is a breach of your password keeping it secure and updated when it's most at risk.
We Recommend
There is no better way to stay secure online than with a password management system. Here at Zenatta we highly recommend using Zoho Vault! It's hard to beat a free world-class system! You can learn more about Zoho Vault by visiting our resource library.