As we take a moment to reflect on all the things to be thankful for while slipping into a weekend-long food coma, let's remember to be grateful for Zoho One. 
With the new year looming around the corner, wouldn't it be nice to have all aspects of your business run under one software solution?
In light of Thanksgiving, here are five things to be thankful for when you switch to Zoho One.
Affordable Pricing
When it comes to pricing, Zoho One is virtually impossible to beat for what you get. Zoho One offers more integrations than any suite in the industry. With over 40+ enterprise-level applications for the low price of $37 per user per month, you might have to pinch yourself.
Most other competing SaaS solutions out there are about 3-5x the price of Zoho One. Plus, they don't even come close to the number of software solutions included in the Zoho suite.

To get a better look, here are some core applications from Zoho if you were to purchase single-user licenses. Let us take four key products you would probably want to use if you were a small business:
CRM Enterprise – $40 per user per month
Campaigns – $4.50 per month
SalesIQ Enterprise – $20 per operator per month
Desk Enterprise – $40 per user per month
These four enterprise products alone would total over $120 per month! And to think, with Zoho One, you only pay $37 and get an additional 40+ enterprise-level applications. Every dollar saved to help your business grow is something to be thankful for.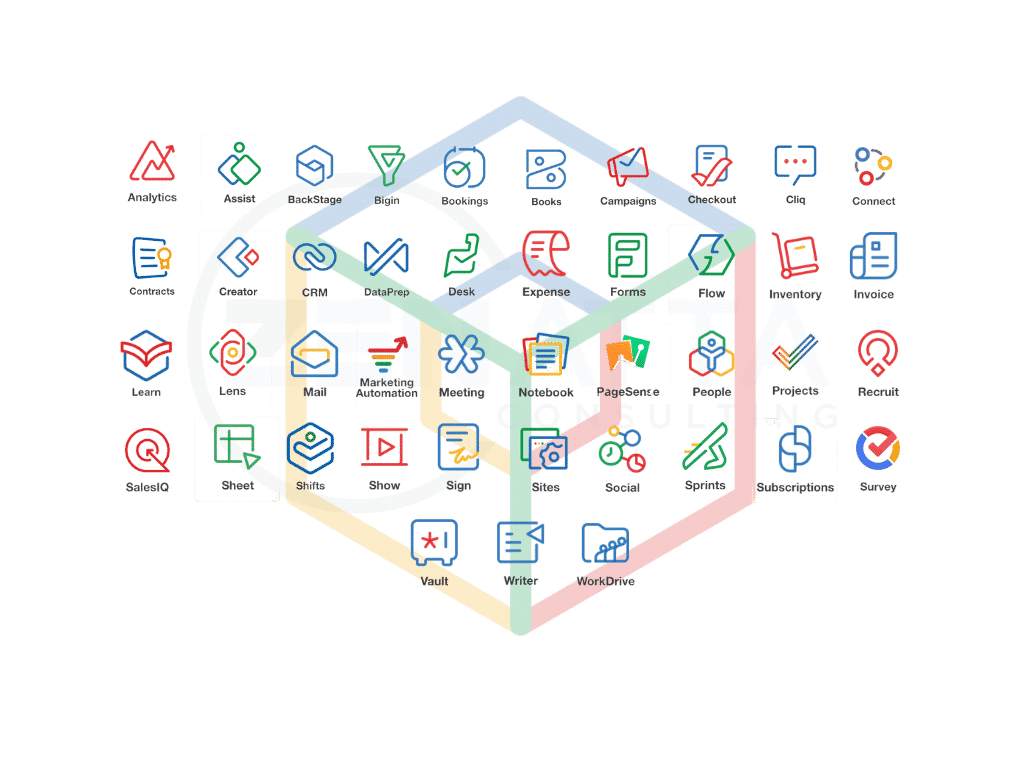 Numerous Applications
When it comes to the applications that come with a SaaS business suite, Zoho reigns supreme. With over 50+ applications and more on the way, Zoho is truly dedicated to having a solution that solves any problem a business might encounter. And the great news is Zoho One includes most of them. Even as they add more applications majority of them end up in the Zoho One bundle.
Although most businesses don't need all the applications and oftentimes will find themselves just using a few, having options is nice. Whether it is Sales, Marketing, Support, Communication, Collaboration, Productivity, Finance, Operations, Human Resources, or Business Processes, Zoho is constantly improving or adding new solutions to each one of these fields. As your business grows, you can start using whatever additional applications you may need, but only if you make the switch to Zoho One!
It is truly amazing the growth of this bundle over the years and its continued growth. While Zoho didn't release any new applications this year, there were some incredible updates to the current apps.
Continuous Updates
Our podcast The CRM Zen Show has been covering Zoho news every week now for over 3 years. And guess what, there is never a dull week. Every week there are countless updates, improvements, new UIs, features, community feedback, events, and more. When you purchase a solution, you want something that you know is going to improve with time, and Zoho does just that.
If you visit our resource library, we rate products Yes, Maybe, and Not Quite Yet. And over the years, the Not Quite Yet and Maybe sections keep dwindling. Not every Zoho product is perfect from the start, and they know this. But they listen to the community, get feedback, invest in R&D, and keep pushing to make each product a top-tier solution.
Even when we think it reaches the top level, they keep pushing to make improvements and innovate with new industry standards and firsts. Take Zoho Campaigns for example. At the 10-year anniversary this year, Zoho released major updates supporting its own SMS gateway and live editing to workflows.
It is a great feeling to be part of an ecosystem where good is never good enough and there is a constant push to be better. Yet another reason to be grateful when you make the switch to Zoho One.
Top Notch Security
Peace of mind knowing your company and clients' data is safe isn't as common as you think in today's tech world. Luckily, you can rest assured and be thankful that Zoho takes its security measures extremely seriously. With over 80 million users in their hands, Zoho treats its users' data with the highest standards.
With data centers built and managed by Zoho all around the world, you can feel safe knowing your data is secure and won't fall into someone else's hands. A unique framework separating your data from other users and government-level encryption, your data is secure.
Another aspect that sets Zoho apart from other companies is that it doesn't mine and sell your data to others. Many other big companies may share your data in private for research purposes with other third-party analytic companies. With Zoho, your data resides only with Zoho, and analytics are not shared with others.
Thriving Community
In the past 25 years, Zoho has grown from a few employees to over 12,000. Under a decade ago they only had 2,000 employees and now are growing yearly by 2,000. Additionally, as the recession looms and we see job cuts happening across the board in tech, Zoho just announced adding 1,000 new employees this past week globally. The user base has now surpassed 80 million and continues to grow. Zoho brought back Zoholoics this year and will continue to have events all over the globe!
Being a privately owned corporation, they have been able to focus on their core values. Giving back to the communities in India, building remote offices and headquarters worldwide, heavy investment into R&D, and most importantly, at Zoho, you are family.
When you switch your company over to Zoho One, you become part of this community and family. We can say personally that we are thankful for being a part of such an amazing community and look forward to sharing experiences with other members as it grows.
Here at Zenatta, we have worked hard at creating our own community with Club Zenatta. We discuss all things Zoho, sharing code and bettering each other's businesses. Anyone is welcome to join, we would love to have you!
This article was originally published on Nov 25, 2021, and updated on November 21, 2022.