When it comes to automation, achieving a seamless invoicing process should be as straightforward as clicking a button. Yet, not all business platforms are crafted with equal finesse or offer the same potential to construct the automation you require. Fortunately, Zoho Books emerges as a reliable ally, furnishing the indispensable tools you need to sculpt those crucial automations. Let's explore the various automations within Zoho Books to optimize your invoicing process.
Seamless Transition from Estimate to Invoice
Zoho Books simplifies and enhances the invoicing process right from the initial stages, particularly the transition from estimates to billing. Within Books, once an estimate is formulated and sent to a client, it is tracked seamlessly. The status of each estimate, which can vary from 'sent' to 'accepted' or 'declined', is visible and updated in real-time, enabling users to have an at-a-glance view of their pending transactions. When a client approves an estimate, a user can effortlessly convert it into an invoice with a simple click, eliminating the need for manual data re-entry and reducing the possibility of errors.
This instantaneous conversion is not only a time-saver but also ensures that the billing phase commences without delay once a quote is accepted. By directly linking approved estimates to the invoicing stage, Zoho Books fosters a fluid and logical progression in the billing cycle. This feature not only streamlines operational workflow but also fortifies client relationships by promoting timely, accurate, and professional billing practices, which are pivotal in maintaining financial health and client satisfaction in any business.
---

Are you a visual learner? Don't worry we've got you covered!
---
Broad Spectrum Payment Processing
Facilitating transactions through various payment channels, Zoho ensures convenience and flexibility in receiving payments. Partnerships with multiple payment processors such as PayPal, Stripe, Square, and Authorize.net significantly broaden your payment gateway options, providing an easy payment experience for your clients.
| Payment Gateway | Supported Countries |
| --- | --- |
| Stripe | View the list of countries supported by Stripe here. |
| Authorize.Net | United States, United Kingdom, Europe, Australia, Canada. |
| Payflow Pro | United States, Canada, Australia, New Zealand. |
| Payments Pro | United States, United Kingdom, Canada. |
| 2Checkout | Supports all countries except North Korea, Iran, Sudan, Syria, Cuba, Myanmar (Burma.) |
| Braintree | Works for United States, Canada, Europe, Singapore, Hong Kong, Malaysia, Australia, and New Zealand. |
| CSG Forte | United States. |
| Worldpay | United Kingdom. |
| WePay | Now supports businesses that are registered in the United States |
| GoCardless | United Kingdom, Canada, New Zealand, Switzerland and Australia |
Source: https://www.zoho.com/books/help/settings/integrations.html
Intuitive Payment Reconciliation with Electronic Payments
Zoho Books enhances your financial management by automatically attaching electronic payments made through invoice links. This automated reconciliation not only saves precious time but also alleviates the manual effort and potential human error involved in matching payments with invoices.
Retainer Invoice Management
Adapting to the unique needs of your billing cycle, Zoho's recent updates to the Retainer Invoice Module empower you to create retainer invoices by defining them as a percentage of the total estimate. This functionality not only provides flexibility in billing but also ensures alignment with client agreements and expectations.
Amplifying Communication with Automated Email Capabilities
Robust email automation embedded within Zoho Books ensures that your communication with clients remains consistent and professional. Whether it's sending automatic reminders for pending payments, expressing gratitude through payment thank you emails, or any other client communication, all is possible, enabling you to focus on core business activities.
Simplifying Recurring Billing with Recurring Invoices
Zoho Books takes the complexity out of recurring billing by enabling the straightforward creation of recurring invoices based on past invoices. This feature minimizes manual intervention, ensuring consistent and timely billing, thereby optimizing your cash flow and enhancing customer satisfaction.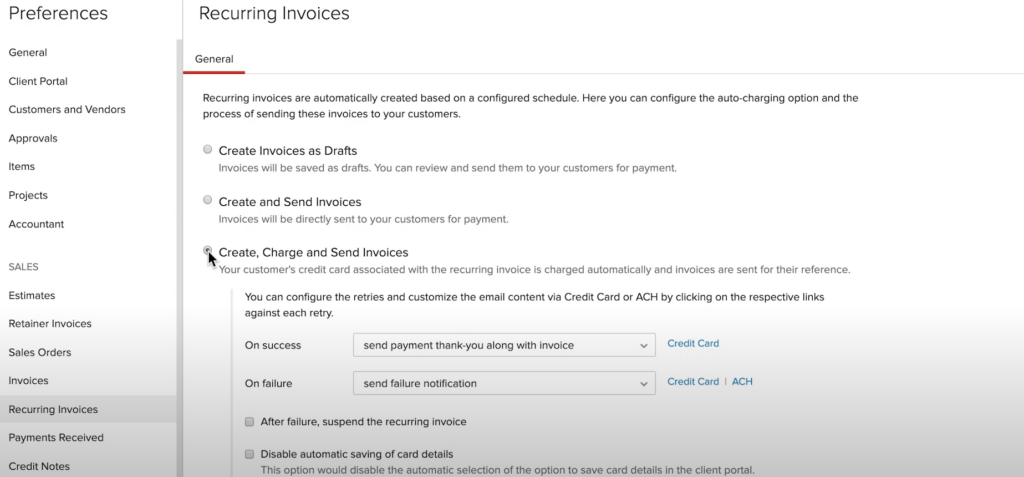 Enhancing Control with an Integrated Approval System
In an environment where approval is key, Zoho safeguards your processes with a built-in Approval System. This enables both customers and staff to seamlessly approve estimates and invoices, maintaining transparency and compliance throughout the billing process.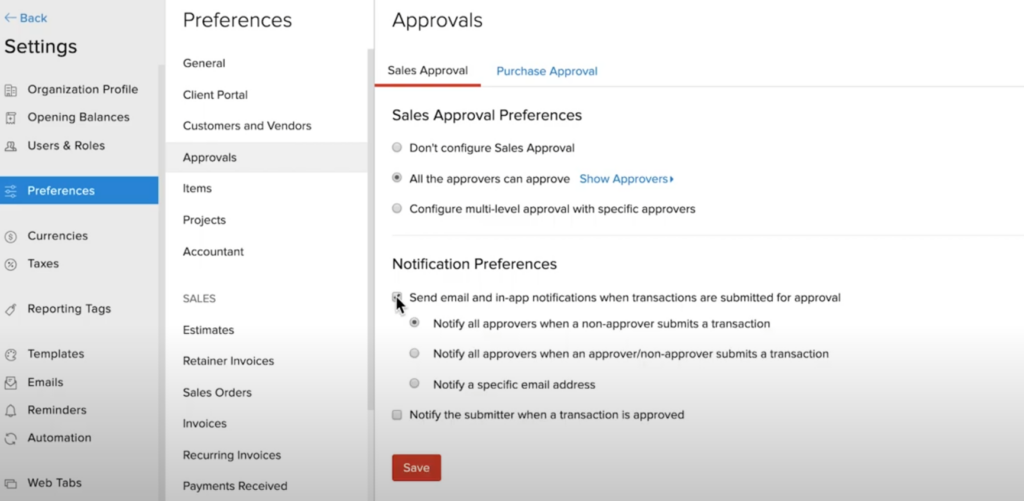 Conclusion: Your Invoicing, Automated and Simplified
Zoho Books is a pivotal tool, automating and simplifying your invoicing process from estimate creation to payment reconciliation. By integrating comprehensive features and functionalities that cater to various billing scenarios, Zoho not only amplifies your billing efficiency but also significantly elevates your client servicing capability.
Your journey toward billing proficiency begins with Zoho Books, ensuring that your invoicing process is not just a routine activity but a strategic endeavor that enhances your client relationships and fortifies your financial management. For additional resources on Zoho Books or other Zoho Products be sure to visit our FREE resource library!