As your business grows, you will need a good customer relationship management (CRM) solution. This technology helps you manage all of your contacts, relationships, and interactions. A CRM brings together people from across the enterprise: sales, business, marketing, support, etc.
Pretty soon, you may find you have more contact data than you know what to do with. Managing that data from websites, salespeople, support, emails, and more will become a challenge. Tracking more data means more people will depend upon that data. Ultimately, the success of your business requires high-quality, accurate data to function.
How can you keep growing your business without drowning in data management? CRM automation is the way to create efficiencies, reduce costs, and improve the quality of interactions between your staff and your customers.

Data Entry
The value of your CRM is dependent upon the contact data that you've put into it. Without data, there is nothing to automate or business to do. Getting your contact data into the system can be one of the most time-consuming and potentially error-prone parts of the process. Keeping your data up to date is more challenging. Automating data entry is an obvious and vital first step to your overall business success.
Customer data is everywhere in your business. This data is on business cards, emails, help desk tickets, and event registrations. It also comes from website form databases, newsletter signup forms, and more.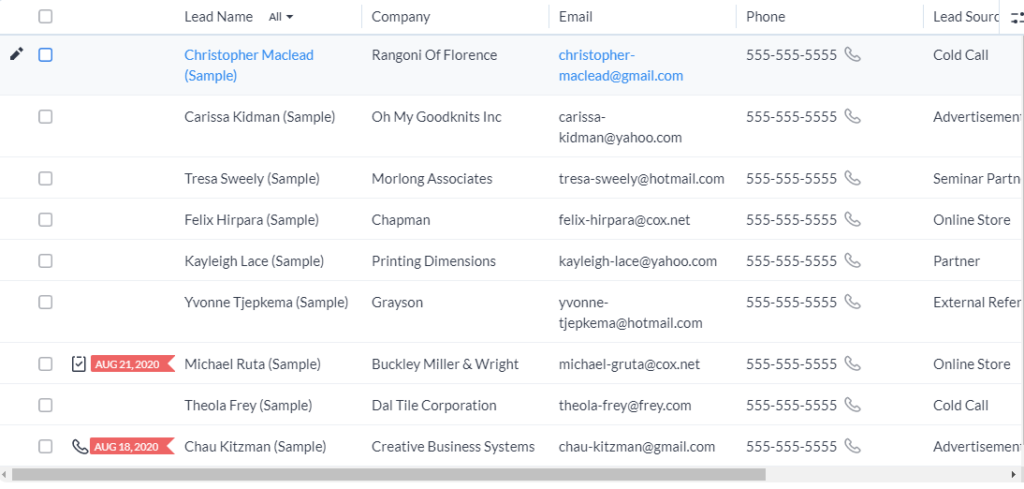 Website forms are a standard tool to capture contact information for prospective customers and leads. Perhaps it is a newsletter sign-up form. Maybe it's a free product trial or an e-book download. It could be a customer survey or a landing page. These forms are an excellent place to capture contact data from prospects and automatically send it to your CRM software.
Customer support systems are another great place to capture data and integrate with your CRM. The support staff has regular interactions with existing customers. You might even have an on-website or in-app chat system such as SalesIQ. Your business needs to capture this data and get it into your CRM either as new contacts or updating existing ones.
Marketing
Once your contact data is in your CRM, marketing automation is the next item to tackle. Salespeople can spend a lot of time and energy sending emails and following up with leads. There's the potential for people to forget to make that next call, and you might end up losing a great customer. They won't be around forever, and if you don't convert them at the right time, they'll be gone to the next thing. Automating marketing activity has a significant impact on your bottom line.
Automatically segmenting your contact lists and address books is a great way to get started. You can tag customers in any number of ways, based on their geography, purchase history, or other methods of value. Your CRM automation tools can sort them into specific segments for marketing and other purposes.
Drip campaigns are one of the best ways to automate marketing for prospects. These campaigns are a form of email marketing where you send automated sets of emails to contacts at specified times or based on specific user actions. Usually, you write the content for a particular target market or segment. Automated drip email campaigns are a great way to stay in front of your leads and automatically react based on their interactions.
Workflows
Sales automation enables your salesforce to spend more time on valuable activities and less time on dull administrative tasks. You can set up workflows and processes to eliminate or reduce redundancies and create efficiencies for your team.
Workflows can manage leads through your process. Converting leads into deals can be time-consuming. Lead management automation can automatically generate leads and group them based on preferences or other variables.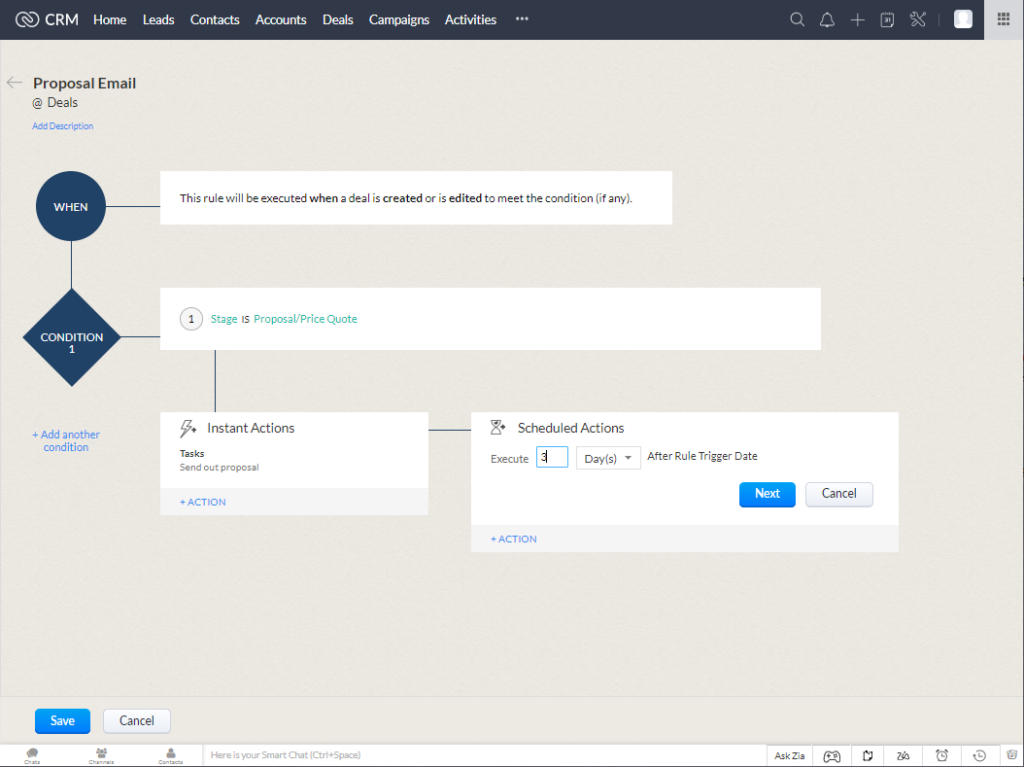 Workflows can integrate your e-commerce website with your CRM system. When a prospect becomes a customer, you want to update that information in your CRM. You don't want to keep sending them prospect-oriented drip campaign emails, for example. You might like to move them into an onboarding group and send them tips and tricks for your product.
CRM workflow automation can take almost any manual process and automate it. Configuring rules and specific triggers allows you to ensure the right action happens only under certain conditions. These workflows can transfer data, send notifications, or any other activity through custom webhooks, etc.
Workflow automation can enable your salespeople to access dashboards with the most vital and relevant data. They can cut through the noise and take action on what matters most at the moment.
Customer Service
The customer journey doesn't stop at the point of sale. Supporting your customers is a vital aspect of the success of your business. Automating customer service processes can have a significant impact.
With CRM integration into your support tools, you enable service staff to have a complete view of the customer and their interactions. They can access information and resolve problems much faster. For self-service, customers can have immediate access to all of their data. They can update their contact information themselves, and the system will send it all back to your CRM.
By integrating your support tools via CRM integration, you can send customer data to any channel at scale. Customers might interact with you via email, chat, website, social media, etc. Having the right information at the right time will lead to exceptional customer experiences and improve the bottom line.
If your business has people physically visit customers, automation tools can reduce the number and length of visits, allowing your staff to take care of more customers quicker. They will have all the information they need to do the job the right way the first time.
Analytics
As your organization grows, so will the amount of data you collect. The need for you to understand that data becomes more critical. Automating analytics activity can save time and money and identify opportunities and solutions quicker.
Your sales team can have their activity and quotas measured and displayed automatically in dashboards or sent via email. Sales managers won't have to spend so much time and effort putting the reports together. They can spend more time on valuable efforts like coaching and training.
You can have metrics updated in real-time that give insights about sales trends, performance, support quality, or marketing campaigns. You can stay on top of your most critical fundamental indicators.
With analytics automation, you can also improve predictive analytics through machine learning. Your models can update themselves with new data nightly on a batch basis. Your product recommendations, cross-sell opportunities, and more will benefit from this automation.
Conclusion
At some point, every growing company faces the problem of dealing with managing lots of contact data. Having a solution to that problem might be the key to success and continued growth.
Automation clearly will have a significant impact on your bottom line. There are many ways to automate workflows to save your team time and money. You'll be able to focus more on activity that creates value for your business and less time on administrative work.